There are many types of water filtration — including activated carbon, ion exchange and mechanical filter systems. Reverse osmosis (RO) is just one type, but it's perhaps the most comprehensive.
If you're considering a drinking water filtration system, it's important to know what makes reverse osmosis stand out. You should also know how RO compares to other water filter solutions. That way, you can choose the best filtration type and get the tap water outcomes you've been looking for.
Here, we'll compare reverse osmosis systems to other water filtration systems so you can make an informed decision.
How To Treat Tap Water: Reverse Osmosis vs. Filtration
There are many types of filtration, which means there are different kinds of filtration systems. They all technically filter your tap or drinking water, but with varying degrees of effectiveness and complexity — which means it's important to compare different filtration solutions before making a final choice.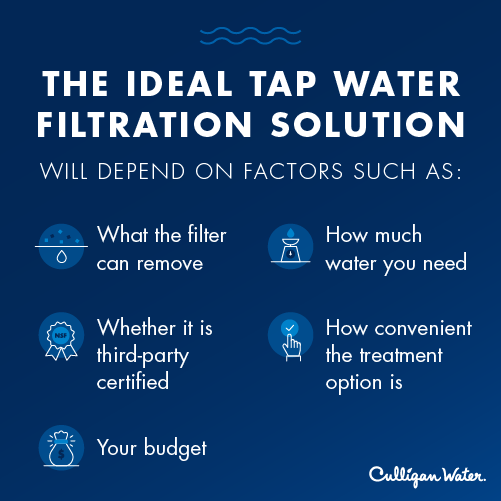 Let's compare two basic kinds of filter systems:
Basic Water Filters
Basic filter solutions include:
Refrigerator filters
Pitcher filters
Countertop filters
Faucet filters
These systems are designed for simplicity. They're easy to install and use, and they often come with low price points that make them seem particularly attractive.
Many basic water filtration systems rely principally on activated carbon, though they may employ additional filter media, too. These carbon filters are most often associated with reducing chlorine taste and odor in drinking water. They can also address certain chemicals, such as organic compounds.
However, other materials — including iron and nitrate — aren't attracted to carbon. That means carbon filtration will likely leave these contaminants in your water if they are present.*
The main thing to remember about basic water filtration systems is that they're supposed to be simple. They're a good way to address aesthetic concerns and some contaminants, but they can't claim to be the most comprehensive options — and they may not deliver the results you're looking for.
Reverse Osmosis Systems
Reverse osmosis water filtration systems rely on a more in-depth process to address your water quality problems. However, this all happens inside the system, which means an RO filter is still easy to use.
In most cases, RO water filtration begins with one or more basic filter types. That can include sediment and carbon filters that act as the first level of treatment. After that, water is forced through a tightly woven RO membrane. This is where the reverse osmosis process does its job: The semipermeable membrane blocks certain contaminants that a more basic system would miss – some as small as a single atom.
Next, depending on your specific system, your tap water might go through specialty filter types that treat other issues, such as viruses, bacteria, pharmaceuticals, pesticides and more. The filtered water then goes into a holding tank and is passed through a final, advanced carbon filter before coming through your tap.
RO systems provide numerous advantages and are one of the most effective ways to treat your water. They also address the widest range of potential contaminants and impurities, such as:
Dissolved minerals
Lead
Arsenic
Viruses and bacteria
Volatile organic compounds (VOCs)
PFOA/PFOS
Thanks to built-in carbon and sediment filters, most reverse osmosis systems can do all the same things as your fridge or pitcher filter. It's the RO membrane and additional speciality filters that makes this drinking water filtration system more comprehensive than most basic solutions.
Choosing Your Water Filtration System
When deciding whether you need a water filtration system, remember that the best option will depend on your needs. In describing the various pros and cons of options such as water filter pitchers, faucet-mounted filters and under-sink filtration systems, the Centers for Disease Control and Prevention (CDC) notes that the ideal solution will depend on factors such as:
Contaminants Addressed
Culligan® RO systems are certified to reduce up to 61 contaminants, from lead and arsenic to viruses and bacteria. That's 12x more contaminant reduction than the leading standard filter pitcher.**
Basic filters are far more limited. They may also focus heavily on a particular issue — for example, the potential taste and odor issues caused by chlorine.
Keep in mind that, while a basic filtration solution might seem effective enough at first glance, water quality can change over time. This depends on your water source, geographical location and even your home's plumbing. As such, a simpler water filter may only be a temporary solution.
Certifications
Not all drinking water filter systems have certifications to back up their promises. Look for solutions that meet these NSF standards:
NSF/ANSI 42: These filters are certified to remove taste and odor issues, generally considered aesthetic concerns.
NSF/ANSI 53: Filters with this certification can address contaminants that have health effects (per the U.S. Environmental Protection Agency and Health Canada).
NSF/ANSI 58: This is a standard specifically related to reverse osmosis filtration and reduced contaminants.
NSF/ANSI 401: A filter with this certification can address emerging contaminants not yet acknowledged by health organizations.
Budget
Although basic filter options may seem more affordable, keep in mind that each filter needs to be replaced as often as every two months. Culligan RO filters last up to two years, and the RO membrane lasts up to five years.
Water Utilization
A reverse osmosis system can prpvide a hefty supply of filtered water that's ready whenever you need it. Other solutions — for example, a filter pitcher — can only handle so much water at a time, making them less realistic for cooking or making your favorite beverages.
Convenience
A basic drinking water or tap water filter might seem convenient, especially since you can install it yourself. However, keep in mind that reverse osmosis is easy, too — and it can even come with smart features that help you track water usage, contaminants reduced and more.
Do You Need Water Quality Solutions?
No matter where you get your water, there's a chance you might benefit from an RO water filter or other solution.
Say you have a private well. These water sources aren't treated or overseen by any local authority. That's why it's important to have your well water tested at least annually to determine if you have contaminants or other common issues. Based on what you learn, a local water expert can help you decide on a treatment plan, which may include:
An RO filter
A whole house water filter
A water softener
What if you get your water from a regulated public water system? You may still want to treat your drinking water. While standards for public water systems in the U.S. and Canada are enforced by federal and local agencies — and municipal water is generally safe — there are some potential issues not covered by these protections.
For example, drinking water may leave treatment facilities and still encounter issues due to aging pipes, corrosion or even the presence of lead in service lines and home fixtures. Additionally, there are emerging contaminants — including PFOA and PFOS — for which authorities have not yet established enforceable standards. That means city water generally isn't treated or monitored for these things.
Even when municipal water supplies are free of other issues, there may still be unpleasant tastes and odors that impact the enjoyment of your drinking water. For example, if your water smells like a swimming pool, you're noticing the effects of chlorine. Most water filters can address these aesthetic problems, too.
Reverse Osmosis vs. Filtration: Which Is Right for You?
Although reverse osmosis is a type of filtration, it's more comprehensive than many other filter options. That's why it's important to understand what a filter does and how it works before making this big choice for your drinking water.
The best way to get started is to have a professional water test and consultation. This will tell you exactly what your water quality looks like and which solutions are best suited for your needs.
Ready to take the first step? Schedule your free, in-home water test and consultation today.
*Contaminants may not be present in your water.
**Aquasential RO and Smart RO when configured with post-filter and Total Defense cartridge.
Schedule Your Free
In-Home Water Test
Get better water in your home by scheduling an appointment with your local Culligan Water Expert.
Water Softeners
With any of our soft water systems, get more out of your water-using appliances while spending less on energy and detergent.
Water Delivery
There's never been a better time to enjoy the convenience of scheduled bottled water deliveries from the Culligan® Water Experts
Water Filtration Systems
Culligan's water filtration systems have improved water quality for thousands of families worldwide.