Keeping ourselves healthy is a goal we can all share, and fortunately there are steps we can take to boost our chances of staying well and fighting off infections. One is as easy as staying hydrated.
"Water is vital for the functioning of all of your organs, and it's a huge part of keeping your immune system functioning at an optimal level," says Dr. Jyothi Tirumalasetty, assistant professor of medicine at UCLA Health in the department of clinical immunology and allergy. "We are made of 60 percent water. If we are dehydrated, the whole system of immunity could start breaking down."
Proper hydration, along with adequate nutrition and sleep, is an essential component of a healthy immune system.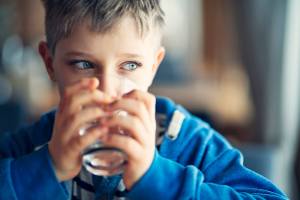 Dehydration Makes us More Susceptible to Germs
Dr. Tirumalasetty describes the immune system as "our own private bodyguard" against infections and other harmful elements. It's comprised of multiple components that include cells, tissues, and organs. One of those organs we know well: our skin. "It's a barrier that protects you," she says. When our skin barrier is impaired, it can become an open door for pathogens like bacteria and viruses to enter our bodies.
The immune system includes T cells that fight infection and work with B cells, which produce proteins called antibodies that travel through the blood. "Those antibodies are going to recognize pathogens and start switching around," she says. "When they meet a new bacteria they say, 'Oh, I need to change and learn to recognize this.' The next time that enters your body, that antibody is going to attack it with full force."
Dr. Tirumalasetty describes water as "a solvent" that helps these and other elements of the immune system work together. "Water carries important components of the immune system, including nutrients, to where they need to go and carries away waste from organs that are the byproducts of our everyday metabolism as we consume food and turn it into energy," she says. If not flushed out, that waste has the potential to become toxic and weaken the immune system.
Make Hydration a Priority
In 2004, The National Academies of Sciences, Engineering, and Medicine set general recommendations for daily water intake for healthy, sedentary people in temperate climates: about 2.7 liters (91 ounces) of water for women and about 3.7 liters (125 ounces) for men. The researchers found about 80 percent of people's total water comes from drinking water and other beverages; the other 20 percent is derived from food.
However, Dr. Tirumalasetty stresses to her patients to switch to water instead of drinking more unhealthy options like juice and soda. She also says the amount of fluids individuals should drink largely depends on a number of factors. People who exercise a lot or are in hot climates likely need more than the recommended amount, for instance. Likewise, older adults with heart disease or kidney disease may need to limit their water intake if their bodies can't regulate so much fluid.
The doctor says one universal rule is that by the time you're thirsty, you're already dehydrated. Plan to drink plenty of water with meals and, if necessary, find ways to trick yourself into drinking it. Add flavoring to water, she says, or heat it up and add herbal tea. You should also eat water-rich foods, which include watermelon, strawberries and spinach.
"It's just like getting eight hours of sleep and eating properly," Dr. Tirumalasetty says. "Getting enough water is a huge component of wellness in my mind."
Schedule Your Free
In-Home Water Test
Get better water in your home by scheduling an appointment with your local Culligan Water Expert.
Water Softeners
With any of our soft water systems, get more out of your water-using appliances while spending less on energy and detergent.
Water Delivery
There's never been a better time to enjoy the convenience of scheduled bottled water deliveries from the Culligan® Water Experts
Water Filtration Systems
Culligan's water filtration systems have improved water quality for thousands of families worldwide.