Do you want to improve the value of your home? Whether you're thinking of selling now or in the future, making a few home upgrades can significantly change the look and feel of your home. Before you start renovating your entire home, find out which surprising home upgrades can increase the value of your home.
Get A Water Softener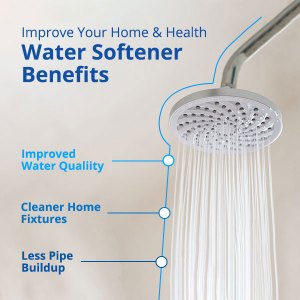 It may not be apparent, but the water running through your faucets can make an impact on your home's value. How? Hard water carries undissolved minerals which can cause rust stains or limescale buildup to appear around your bathroom and kitchen fixtures. Moreover, these mineral deposits can also build up overtime and affect the efficiency of your home's water heaters, boilers and plumbing. Soft water systems can:
Keep your home looking clean and fresh by eliminating rust stains and limescale buildup caused by hard water
Help prevent corrosion of your plumbing caused by mineral deposits
Minimize repairs on appliances due to hard water buildup
Increase plumbing and home equipment efficiency
Leave your laundry feeling soft after washing
Eliminate water stains on your shower doors and dishes
Potential buyers looking to save on cleaning efforts and on their energy bill are more likely to pay more for a home with a water softener. Invest in a water softening system and reap the benefits of a better-looking and functioning home.
Everything Your Need to Know About Water Softeners
Invest In Smart Home Technology
Smart home technology is highly sought after in today's market. It's not just the younger demographic looking for these smart home features, people of all ages prefer the ease and convenience of using wi-fi operated devices. Specifically, devices that use voice control tend to be high on the list for potential buyers due to their location flexibility and user-friendly functions. The more devices you're able to incorporate, the bigger impression your home will make. These are some smart home devices that can help increase your listing price:
Home automation system like Google Home or Amazon Echo
Water filtration and softening systems
Entertainment systems
Lighting
Locks and other security features
Install A Sprinkler System
Installing a sprinkler system can increase your home's curb appeal. Since first impressions matter, many homeowners will try to increase the value of their home by upgrading the outside. What do most buyers look for? A green lawn. A home sprinkler system can give your home that curb appeal it needs in numerous ways, including:
Providing proper watering and irrigation for your lawn
Keeping your plants and landscape looking lush, making your home more aesthetically appealing
Eliminating the need for manual labor to maintain the landscape
If a potential buyer is looking for an attractive lawn or low-maintenance landscaping, a home with a sprinkler system is likely to catch their eye.
Replace Bathroom Fixtures
Upgrading your bathroom is one of the easiest and most cost-effective projects you can do to increase the value of your home. While the number of bathrooms is important to potential buyers, how inviting and modern a bathroom looks can also sell them. Fortunately, bathroom renovations don't have to be costly. Changing your light fixtures, sink faucets, towel racks and showerhead may seem insignificant, but it can take your bathroom from outdated to modern without breaking the bank. You can find affordable options at your local home improvement store or shop around for unique fixtures that will make your bathroom standout. Just make sure the new fixtures complement the rest of the bathroom for a cohesive, updated look.
Update The Front Door
Another upgrade that can contribute to your home's curb appeal is the front door. The front door is the entry point to your home and is one of the first things potential buyers will see, be sure it makes a good impression. A new door can do more than just make a home look more attractive, it can also:
Improve insulation
Boost security if a deadbolt or wi-fi-enabled camera are added
Incorporate smart home technology if you choose a keypad option
A door can say a lot about your home. This one small upgrade can make you a big difference without much of an investment.
Install Built-In Speakers
With smart homes on the rise, a home with upgraded technology is bound to grab a buyer's attention. One way to boost your home's technology is by installing built-in speakers. Built-in speakers can be installed in every room in the house, so you can:
Listen and control music throughout the entire house
Enjoy surround sound when watching TV, sporting events or movies
Eliminate the need for multiple sound systems
Amenities can go a long way when you're trying to make your house standout to potential buyers. The more features you add, the more your home's value increases.
Upgrade To Energy-Efficient Windows
Changing out your old windows for new ones may not be on the top of your to-do list, but making the investment comes with substantial benefits. Before replacing your windows, you'll want to consider which features provide more insulation. Your best options may include, high-quality frames, multi-paned glass and gas infused panes. Energy-efficient windows can:
Lower energy costs
Eliminate any water leaks
Create a tight seal, reducing the time needed to heat and cool your home
Improve the look of your home and increase marketability
According to the most recent Cost vs. Value Report from Remodeling Magazine, the return on new windows is more than the returns for other high-cost home renovations, such as kitchen remodels. If you're considering a home upgrade, changing your windows is a profitable investment.
Replace The Garage Door
A garage door takes up a lot of visual space in the front of your house, so it's no surprise that it can make a difference on your properties' perceived worth. A garage door upgrade can leave a good first impression and boost your home's value in several ways:
Better Curb Appeal: A garage door can enhance the exterior of your house. You can spruce it up by adding a fresh coat of paint that matches your home's color scheme for a cohesive look or go for a bold accent color. Just avoid any bright colors that could be perceived as an eye sore.
Increased Energy Savings: Installing an insulated garage door can help you save on energy costs by maintaining the temperature of the garage interior. With better insulation, the hot or cool air isn't escaping, so you're not having to regulate the temperature. This is especially important if your home is attached to the garage.
Enhanced Safety and Security: If your garage is attached to your home, potential buyers will want to feel a sense of security. Installing a garage door opener system will help keep intruders out and anyone living in the home will have peace of mind that they have an extra level of protection. Installing smart home technology for another level of security can also appeal to potential buyers.
Summary
Home upgrades don't have to be time-consuming or expensive. Start with these small upgrades to start increasing the value of your home.
View Culligan Water Softeners
Schedule Your Free
In-Home Water Test
Get better water in your home by scheduling an appointment with your local Culligan Water Expert.
Water Softeners
With any of our soft water systems, get more out of your water-using appliances while spending less on energy and detergent.
Water Delivery
There's never been a better time to enjoy the convenience of scheduled bottled water deliveries from the Culligan® Water Experts
Water Filtration Systems
Culligan's water filtration systems have improved water quality for thousands of families worldwide.